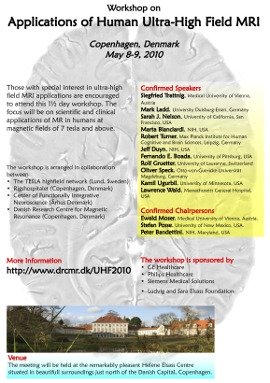 In spring 2010, 85 MR scientists and clinicians gathered in Copenhagen for a 1½ day symposium on scientific and clinical applications of MR in humans at magnetic fields of 7 tesla and above.

We were proud to feature presentations from outstanding experts in the field of ultra-high field imaging applications:
Marta Bianciardi, NIH, USA:

Spontaneous signal fluctuations in human fMRI at high magnetic fields.

Fernando E. Boada

,

University of Pittsburg, USA:

Monitoring Ion Homeostasis with Sodium MRI (sMRI).

Jeff Duyn

, NIH, USA: Anatomical MRI based on magnetic susceptibility contrast.

Rolf Gruetter, University of Lausanne, Switzerland. In vivo metabolism studies at ultra-high field.

Mark Ladd

,

University Duisburg-Essen

, Germany.

Advances in Ultra-High Field Body Imaging
Sarah J. Nelson, University of California, San Francisco, USA:

Clinical applications at ultra-high field.

Oliver Speck, Otto-von-Guericke-Universität

Magdeburg, Germany: Towards fMRI of subcortical structures at high field.

Siegfried

Trattnig, Medical University of Vienna, Austria:

High resolution morphological, compositional and metabolic imaging in the musculoskeletal system by ultra-high field.

Robert Turner,

Max Planck Institute for Human Cognitive and Brain Sciences, Leipzig, Germany: Multimodal imaging

Kamil Ugurbil, University of Minnesota, USA:

fMRI of the visual system at ultra-high field

Lawrence Wald,

Massachusetts General Hospital

, USA:

Control of CBF at the laminar level.
Venue
The meeting was held at the remarkably pleasant Helene Elsass Centre situated beautifully just north of the Danish Capital Copenhagen (map).