DRCMR is partner in the EU Horizon 2020 funded Lifebrain project (http://www.lifebrain.uio.no/). Lifebrain is realized through close collaboration of major European brain research centers (see figure) and a small and medium-sized enterprise (SME: VITAS). Lifebrain will integrate 11 longitudinal and seven cross-sectional European, mostly population based cohort studies from 8 centers, investigating cognitive and mental health across the life-span. The main goal of Lifebrain is to identify determinants of brain, cognitive and mental health at different stages of life and to establish a solid foundation of knowledge for understanding how brain, cognitive and mental health can be optimized through the lifespan.
Lifebrain intends to link existing cohorts to national registries, biobanks and data from other large studies, and enrich them with new online data collection.
Working with stakeholders and health authorities, the project will provide the evidence base for policy strategies for prevention and intervention, improving clinical practice and public health policy for brain, cognitive and mental Health.
Senior Researcher William Baaré from DRCMR is work package leader of work package 2: data management and integration.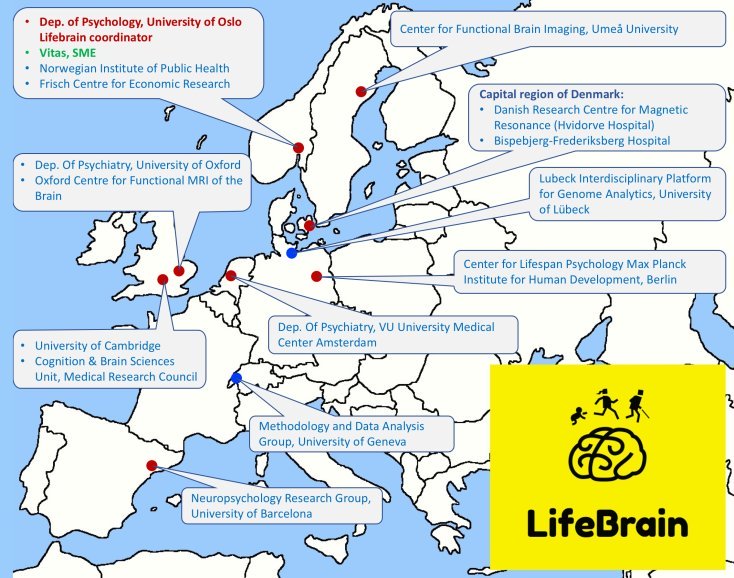 Lifebrain Partners
| | |
| --- | --- |
| Norway - Lifebrain Coordinator | |
| Kristine Waldhoved | Department of Psychology, University of Norway |
| Anders Fjell | |
| --- | |
| Ole Rogeberg | Frisch Centre for Economic Research |
| --- | |
| Gun Peggy Knudsen | Norwegian Institute of Public Health |
| --- | |
| Christian A. Drevon | Vitas, SME |
| Thomas E. Gundersen | |
| --- | |
| Sweden | |
| Lars Nyberg | Center for Functional Brain Imaging, Umeå University |
| --- | |
| UK | |
| Klaus Ebmeier | Dep. of Psychiatry, University of Oxford and Oxford Centre for Functional MRI of the Brain |
| --- | |
| Rik Henson | Cognition & Brain Sciences Unit, Medical Research Council & University of Cambridge |
| Lorraine Tyler | |
| Rogier Kievit | |
| --- | |
| Germany | |
| Ulman Lindeberger | Center for Lifespan Psychology, Max Planck Institute for Human Development, Berlin |
| Andreas Brandmaier | |
| Simone Kühn | |
| --- | |
| Lars Bertram | Lübeck Interdisciplinary Platform for Genome Analytics, University of Lübeck |
| --- | |
| Spain | |
| David Bartrés Faz | Neuropsychology Research Group, University of Barcelona |
| --- | |
| The Netherlands | |
| Brenda Penninx | Department of Psychiatry, VU University Medical Center, Amsterdam |
| --- | |
| Switzerland | |
| Paolo Ghisletta | Methodology and Data Analysis Group, University of Geneva |
| --- | |